Daloris Dairy was started in 1986.  Dale and Doris Mortimer started the dairy with just a few cows, and just a few children.   Through the years, those few cows turned into the beautiful herd of Jersey's they have today.  The family grew, eventually having four sons and four daughters who all participated in raising, milking, and showing the cows at local and state fairs.
Raising quality Jerseys has been a passion for multiple generations of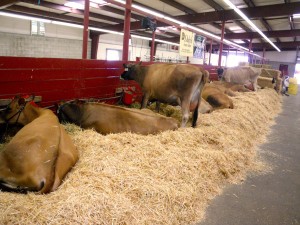 Mortimer's.  Dale grew up milking Jersey's with his dad, and was blessed enough to get to raise his own children doing so.    They have dedicated their years on the farm to the proper care of the cows, and have seen the fruits of their labors as the new generations of calves grow up to be the milking and show stock of the day.   
Dale's son, Tyler, has had the opportunity to stay and carry on the family business of milking cows and farming.   Now, they have worked to make their grade A dairy, licensed to sell raw, unpasteurized milk.  Their goal is to raise quality cows, in a good environment, so they can share the many health benefits of this natural milk with all who desire it.